Supplemental Bodyweight Training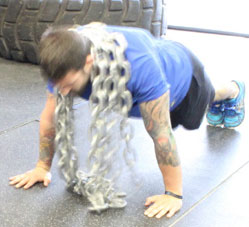 As the owner of
Horsepower Strength and Conditioning
and creator of the Powerology training system, I work with athletes of all levels, ranging from complete beginners to professional athletes competing at the highest levels. No matter which client I am working with, my programs are focused on barbell training, jumping, sprinting and bodyweight training.
The foundation for strength and power training begins and ends with a barbell. The programs that...
Log in or Subscribe to continue reading.
Matt Miller is the owner of Horsepower Strength & Conditioning, located in Minneapolis, Minn. He earned a bachelor's degree in Physical Education (Bethel University) and a Master's degree in Sports Management (University of Concordia, St. Paul). He is a Certified Strength and Conditioning Specialists (NSCA), a Certified MMA Condtioning Coach, and a Certified USA Weightlifting Sports Performance Coach. Matt serves as the head strength and conditioning coach for many fighters around the country and has experience in hundreds of fight camps including many fights for the UFC, Bellator and Invicta.

Search Articles
---
Article Categories
---
Sort by Author
---
Sort by Issue & Date
---