16 Questions With Chris Kluwe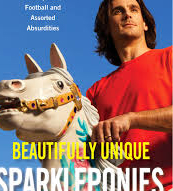 I met Oakland Raiders punter
Chris Kluwe
(formerly of the Minnesota Vikings) in Minneapolis when he was signing copies of his new book, Beautifully Unique Sparkleponies, after a talk where he primarily answered questions from audience members.
I was struck by his candor during the Q&A session and the startling honesty of his book, although it had little to do with football. "If you define yourself solely by one activity th...
Log in or Subscribe to continue reading.
Yael Grauer is an independent journalist living in Phoenix. She dabbles in Olylifting and trains in Brazilian jiu-jitsu. Find her at http://yaelwrites.com and on twitter.