Tapering for Competition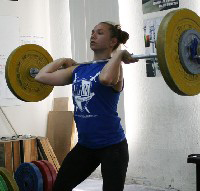 Athletes train to compete. More importantly, they train to win. Why else would they put in hours of training in a day just to come in second? Whether an athlete's season is three competitions or 20 competitions long, they should be at their peak performance levels for those few competitions that are the most important to have the best chance to come away with a victory. One way coaches can help ensure athletes are physically ready is a taper period.
A taper is a period of t...
Log in or Subscribe to continue reading.
John Grace is a Sport Performance Coach at Athletic Lab where he coaches youth to elite level athletes in a wide range of sports. He is currently earning his Master's degree from Ohio University in Coaching & Sport Science. John is a Certified Strength & Conditioning Specialist, USA Track & Field and USA Weightlifting Level 1 Coach. In addition, he served as the Assistant Fitness Coach of the 2013 MLS Vancouver Whitecaps alongside Dr. Mike Young.


Search Articles
---
Article Categories
---
Sort by Author
---
Sort by Issue & Date
---