Recipes: Issue 1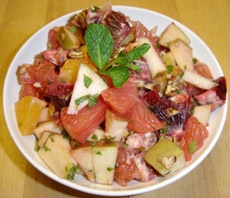 Winter Fruit Salad

Time: 20 minutes

Ingredients
- 1 medium blood orange
- 1 medium ruby red grapefruit
- 1 medium Fuji apple
- 1 medium Valencia orange
- 1 handful of fresh mint
- 1/4 cup pecans
- Juice from 1/2 lime
- 1/4 tsp cinnamon

Preparation

Coarsely chop pecans and set aside. Peel orange, blood orange, and grapefruit and separate into slices. The grapefruit will re¬quire some extra effort to remove the thick cortex. Chop each slice into fifths and place in bowl. Cut apple into eighths and then cut into smaller bite-sized pieces. Add to bowl. Mince the mint and add to salad. Add pecans, drizzle with lime juice and sprinkle with cinnamon. Mix and en¬joy! Makes ~ 6 Cups.



Garlic Mashed Cauliflower

This is a great tasting substitute for tradi¬tional mashed potatoes. We recommend using a pressure cooker for the sake of saving time, although steaming is a viable option as well. The amount of garlic we use is fairly moderate. For extreme garlic lovers add as much as you desire. If you're not combating vampires one may certainly reduce the prescribed amount.

Time: Pressure cooker: 10 minutes; Steaming: 15-20 minutes

Ingredients
- 1 large head of cauliflower
- 8-12 cloves of garlic
- Olive oil
- Black pepper and sea salt to taste

Preparation
Trim green leaves from cauliflower head and set aside. The leaves are not needed for this recipe, but don't throw them away! They are both tasty and nutritious and are a great side vegetable.

Cut cauliflower into florets and place in pressure cooker or steamer. Peel garlic cloves and add to cauliflower. No need to chop or mince the garlic as it will be mashed later. If using a pressure cooker add 1/4 to 1/2 cup of water. Cook cauliflower until slightly soft. This will be 3-5 min¬utes in a pressure cooker, 5-10 minutes if steaming.

One may use a hand-held potato masher or electric beaters (for a creamier consis¬tency) to mash. Add black pepper, sea salt and olive oil as desired.

Search Articles
---
Article Categories
---
Sort by Author
---
Sort by Issue & Date
---