Work & Power Calculator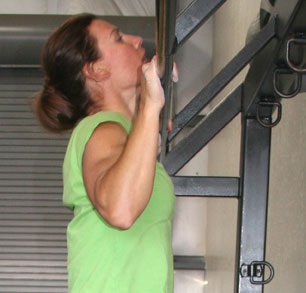 In issue 31 of the CrossFit Journal, Coach Greg Glassman calculated the work completed and power generated by an athlete (Greg Amundson) performing the classic diagnostic CrossFit workout "Fran" (21-15-9 reps of 95 lb thrusters and pull-ups).This got us thinking: Wouldn't it be righteous to create a resource that would allow an individual to quickly and easily approximate the work and power output of a workout?
In other words, let's provide a simple tool f...
Log in or Subscribe to continue reading.
Greg Everett

is the owner of Catalyst Athletics, publisher of The Performance Menu Journal and author of

Olympic Weightlifting: A Complete Guide for Athletes & Coaches

, Olympic Weightlifting for Sports, and

The Portable Greg Everett

, and is the writer, director, producer, editor, etc of the independent documentary American Weightlifting. Follow him on Facebook here.

Eva T. is a 2X Olympian in Alpine Skiing ( Albertville and Lillehammer ) and a 12 year veteran of the U.S. Ski Team. She has won 6 National Championships, Won a world Championship Bronze Medal, and is a World Technical Skiing Champion. She also is a Masters Weightlifting Champion. In 2011 she was inducted to the U.S. Ski and Snowboard Hall of Fame! She is now sharing her experiences from her athletic career and her knowledge in the Health and Fitness realm. Eva T Strength & Conditioning.
Search Articles
---
Article Categories
---
Sort by Author
---
Sort by Issue & Date
---