Weightlifting News: Issue 108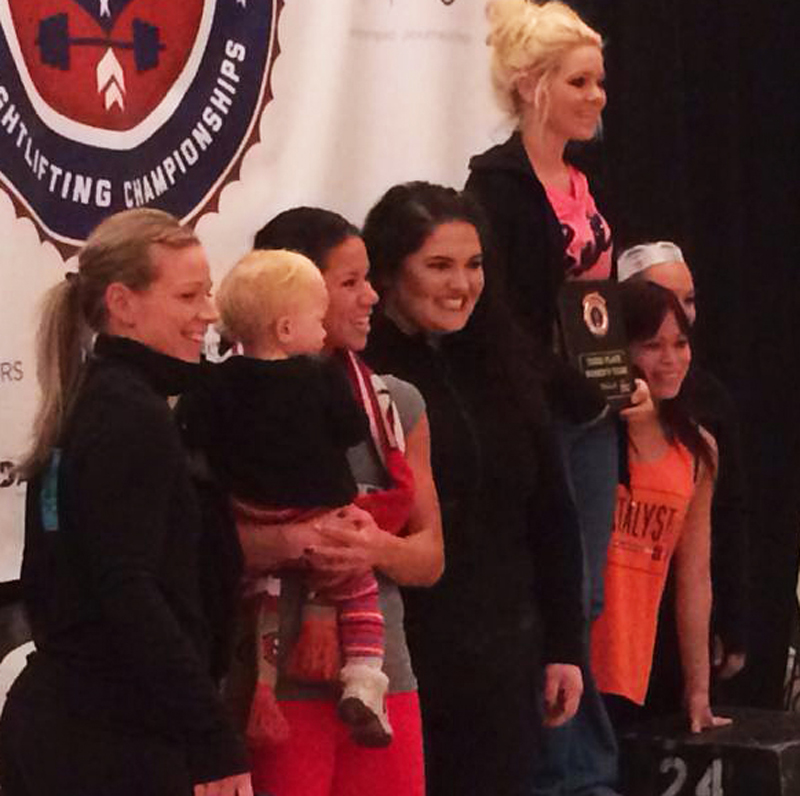 NEW AMERICAN RECORDS

Youth Divisions
Alexandra Thornton (44kg – 13& Under – Spoon Barbell): Snatch (43kg), Clean & Jerk (53kg) – Total (96kg)
Olivia Perez (53kg – 14-15 – Club Boris): Snatch (59kg)
Bret Pfieffer (50kg – 14-15 – Charleston WLC): Snatch (64kg), Clean & Jerk (84kg), Total (146kg)
CJ Cummings (62kg – 13&Under – Team Savannah): Clean & Jerk (131kg)
Mason Groehler (69kg – 16-17 – Wisconsin): Snatch (115kg),
Harrison Maurus (69kg – 13&Under – Outlaw Barbell): Snatch (88kg)
Tom Summa (77kg – 16-17 – Kirkwood Weightlifting): Snatch (123kg)
Nathan Damron (77kg – 16-17 – Club Boris): Clean & Jerk (152kg) and Total (275kg)
Junior Division
D'Angelo Osorio (94kg – Junior – Hasslefree Barbell): Clean & Jerk (195kg)

2013 American Open: Catalyst Athletics
Catalyst Athletics was in attendance at the 2013 American Open with 11 lifters:
48 kg – Heather Snethen, Jes Liao
53 kg – Audra Dunning
63 kg – Alyssa Sulay
69 kg – Chyna Cho
75 kg – Kara Doherty
75+ kg – Tamara Solari, Tamara Holmes
69 kg – Blake Barnes
85 kg – Zack Height
105 kg – Greg Everett
This was the largest meet in USAW history, with over 400 lifters. This is great in one sense—it shows that interest and participation is growing—but problematic in a few—such as the fact that it's extremely difficult to run a meet with this many lifters, it results in sessions that have terribly long waits for lifters in between their attempts, and it's chaotic for lifters, coaches and spectators. Overall, it went better than I expected, but the situation was far from as good as it should have been for both athletes and coaches.
The weekend was also complicated by the fact that Dallas was experiencing a serious freeze and airline traffic in and out was limited—many athletes' flights were cancelled or rescheduled, and a significant number of them were unable to make it. Our own Tamara Solari barely made it there.
In any case, our lifters did pretty well, and our women won the team silver medal for the second year in a row. Individual medals included bronze in the snatch for Kara Doherty, and bronze in the snatch and clean & jerk and silver overall for Tamara Solari.
Our first lifter on Friday was Audra Dunning, lifting at her first national meet. She made 4/6 lifts, and I would argue only missed the 2 because of the ridiculous wait times she had between her attempts—she actually had to come back to the warm-up room and do waves back up to her next attempt in the snatch each time. She made a 73 kg clean on her final attempt, but couldn't quite make the jerk.
Next were Alyssa and Zack. Both had rough times again with waits between attempts, and both struggled with snatches. Zack snatched 120, and then came back strong in the clean & jerk with 150. Alyssa missed her opening snatch at 70 twice behind, then made it on her last attempt. She smoked her opening clean & jerk at 88, and then after a very long wait, cleaned 91 twice easily but couldn't quite get the jerk. Tamara Holmes and I lifted in the last session on Friday. Tamara did 70/92, and I did 140/165.
Saturday started with Heather and Jes. Jes smoked all three snatches up to 54, and all her cleans were easy, but she was getting extremely dizzy and only made her second jerk at 63. Heather made a great 56 kg snatch, and then had the whole room going nuts about her jerk at 72 after a serious fight with the clean. Later, Blake made an easy 102 snatch opener, but then couldn't quite get his second and third with 107. He came back strong and clean & jerked 135 on his second attempt.
On Sunday, Chyna had a tough time with snatches but made an easy 73 and clean & jerked 94. Kara had the snatch save of the night on her last attempt at 85, which secured her the bronze medal in the snatch and gave her 3/3 on snatches. She clean & jerked 99 and barely missed the jerk on her final attempt at 101.
Tamara Solari also had a bad snatch day, only making one attempt at 88, but it was good enough for the bronze in the snatch. She then made an easy 120 clean & jerk opener to secure her the overall silver medal. Due to complications with the officials (the clock wasn't stopped properly during a weight change), she had to rush out to her second clean & jerk at 125, and still nearly made it. After a very short break, she cleaned 127 easily and jerked it, but she received 2 red lights, presumably for a pressout that I wasn't able to see from where I stood to her side.
The officials mistakenly gave our team's second place award to another team because they had forgotten to include us in the team points calculations, but this was corrected and we should be receiving the correct plaque soon.
It was a very long, exhausting weekend for everyone, but once again, the Catalyst Athletics lifters did a great job performing even in the less than ideal, and often very bad, circumstances.

Results: 2013 American Open
Click
here
for the 2013 American Open Results
Search Articles
---
Article Categories
---
Sort by Author
---
Sort by Issue & Date
---